As we finally get a brief moment to breath during the busy events calendar that CDM Media has this year, I wanted to take some time to let you all know what is going on a little place they call New York. Yes the rumors are true; CDM is opening another office in its quest to bring world-class executive events to the masses.
Over the past 7 years here at CDM Media its been a privilege to see the rapid growth from some pretty humble beginnings in a small no-window office in Hawaii to 2 years later taking over the entire 28th floor of the building – which had lots of windows (I'm still not sure what was worse – living in paradise and not seeing the outside, or having 270 degree views overlooking Honolulu and Waikiki and being stuck in the office).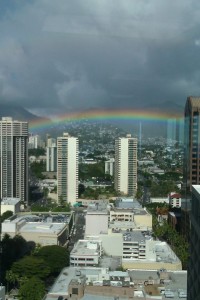 Fast forward another few years and we relocated company HQ from Hawaii to Chicago where I had the pleasure of taking some very fine CDMers and opening up the doors at 155 N Wacker Drive. Within the year we opened our UK office in Cardiff and our march into EMEA took full stride. During the past several years it has been my honor to be a part of numerous hirings and openings across all our offices. Further, its been great to see that many of the folks that worked in Hawaii and helped open the doors in Chicago are still amongst us, and in well earned and deserved senior positions across the company.
But enough reminiscing (although the photos from Hawaii might warrant a couple of other blog posts about the amazing travel locations that CDM staff get to see… hint, hint blog master!) and back to what I'm meant to be talking about; CDM is opening yet another office and we are to have official dwellings in Chelsea/Flatiron in the bustling metropolis that is NYC.
For CDM, the city of New York offers an abundance of new hires within a very close proximity- if you haven't already heard Manhattan has a very dense population and a whole new employee base for us to onboard and turn into highly functional, fun and fantastic CDMers. Finding the right hires for any company is important, but finding the right hires for a company opening a new office is massively important. So over the past few months between Glenn, Mike, and I we have interviewed over 100 candidates for both Business Development and Relationship Management roles for NYC alone. Going into the interviews we knew what we were looking for – that's the easy part. Sifting through the 1000+ resumes, conducting several hundred calls to vet candidates, and then interviewing face-to-face is the hard part.
Recruiting staff has to be one of the most mind-boggling, brilliant, but painstakingly resource intensive experiences I been through here at CDM. Going into NYC and interviewing 10-15 persons a day even, with the likes of the comical genius Mike at the side (and doing the majority of the heavy lifting in scheduling etc.) is nothing short of knackering. Just pulling from my personal experience from interviewing not only was I able to meet some great candidates and go on to hire several already, but I also took a real sense of pride in what CDM has achieved to date. Our products are highly regarded not just by our clients that receive top class events and digital media services, but also from our peers and contemporaries at other companies. Sure I am not naïve enough to think that during the interview process a candidate would look to put CDM on a pedestal, but flushed with candidates many coming from well established companies such as Gartner, Wall Street Journal, and The NY Times it was great to see that many candidates had taken time to research about CDM and, having seen the recruitment video online, had picked up on the CDM culture. Kudos are due to HR and to TechServices for doing a great job on the videos across YouTube and beyond.
The end result of the sometimes-tiresome NYC trips was that we were able to invite some of the 3rd and 4th stage interviewees to come in for more interviews at our Chicago HQ office before pulling the trigger and getting them onboard. What we are looking for in new hires pretty much embodies the major cultural principles that drives successful CDMers – putting the client first, working hard and enjoying it, being entrepreneurial go getters, and the list goes on.
Taking a momentary step back, its nice to think that we have over the years seen CDMers from all walks of life join and embrace this culture and for many help shape it across the various departments and office to ensure that we have a truly great employee base. I bring this up not just to champion the quality of people (that's you CDM) that I have the pleasure of working with everyday who make the business truly brilliant. No, I do it to highlight that with having such a unique culture to our business today, how much easier recruiting and successful on-boarding of new staff can be. After all a man who is credited "with inventing management" did say "Culture eats strategy for breakfast".
So as the bright lights of NYC beckon and with the incubator team of Ira, Justin, and Matt heading back home (which I think they are looking forward to) and shortening their commute by 1000 miles or so, we go into our brand new office space in prime real estate in Chelsea/Flatiron. Monday will also be the starting date for some other new hires – watch this space as we hit the ground running and look to build CDM within the Empire State. Anyways time to get back to the day job but no doubt you will see me flitting in between Chicago and NYC racking up the air miles.