It's always a joy to have the opportunity to give back to the community you live in.  Having the CDM Media headquarters in Chicago, IL gives us several outlets in which we can give a helping hand.   Not only are we giving all of our fundraising money to The Lurie Children's Hospital, we are also trying to make an impact on the community that surrounds us by donating our clothing, time, and money to those in need.
Our Lurie Children's Hospital fundraising goal this year is to hit $10,000.  We are about half way there, which is great saying it is already the middle of the year.  Where has the time gone?  Our biggest fundraising event, so far, was Guest Bartending at a local bar McFadden's.  With six members of our staff behind the bar we made a total of $653 in donation money.  Along with hosting at McFadden's, we have put together two different sporting event pools/brackets, and also held a loose change competition where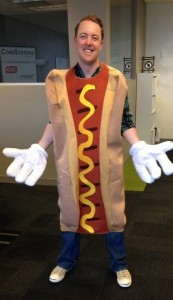 the "loser" who made the most money had to wear a hotdog costume. It was quite the site to see.  Some of our upcoming fundraising events will be a silent auction at our CIO Chicago summit which is held at the end of August, a pizza night at California Pizza Kitchen, a baby photo challenge of all employees, and also an end of the year bake sale for that last little push.  It has been a great experience seeing the office come together for such a wonderful cause, like The Lurie Children's Hospital, and I am excited to see us reach our goal by the end of the year.
Not only are we fundraising for the hospital but we are also doing volunteer work for our community.  During the past couple months we have been collecting gently used business clothes for The Cara Program.  The Cara Program is not only a best-in-class job training and placement provider for individuals affected by homelessness and poverty, but also a vehicle for true life transformation.  As a company we collected over four large bags full of clothing to donate.  A few little things that we have planned throughout the rest of the year consist of a fleece tie blanket making party for the kids of Lurie Children's hospital, pumpkin craft decorating kits for Lurie's, food drives during November and December, and also Operation Christmas Child.  One of the best feelings in the world would have to be helping someone who is not as fortunate be able to enjoy life just a little bit better! We, at CDM Media, hope to make lives better this year.
If you are interested in helping out one of our causes please feel free to reach out.  There are also links below to the places we will be working with if you get the urge to start volunteering and helping out in the wonderful city we live in.
https://www.luriechildrens.org/en-us/Pages/index.aspx
http://www.thecaraprogram.org/
http://www1.usw.salvationarmy.org/usw/www_usw_cascade.nsf/0/e641fe1ec26712988025713f00823076?OpenDocument#_Section2