So, it's long been an intention of mine to write more/share thoughts. I have no idea if this is vanity getting the better of me, or if it is me being the overly competitive type thinking that the vast amount of Linkedin stories add up to little more than common sense or same old, same old.
I have been putting off writing simply because I had no idea how to start. Whilst in junior school in England I remember many of my English writing teachers tell me that a story has a beginning, a middle, and an end. Now here is the snag: I don't consider myself to be an industry expert, I don't consider myself to be a hugely successful entrepreneur, and I don't think that I am so worldly that I can impart a "zen" like wisdom to all, so coming up with that story was proving tough.
I am sure most of you have heard or are following the earthquakes that devastated much of Nepal. I was with my team in NYC watching video footage from drones, personal cameras, and TV crews that were quick on the scene. The damage to the cities and many of the ancient monuments/temples and other buildings is hard to see. This will become harder as the news develops and more stories emerge about the rising death tolls and utter devastation that the earthquakes and aftershocks have had on one of the world's less affluent but culturally rich countries. Amongst all of the stories I was particularly taken back by the unfortunate death of the 33-year-old Google X executive that died in the avalanche that destroyed much of Everest Base Camp. This, I suppose, spurred me into writing as he and I were of similar ages and both work in technology. My heart-felt hopes and prayers are with the Nepalese people, as well as all of the people and their friends and family who were caught in tragic circumstances following their dreams of climbing the 29,029 feet to the top of the world.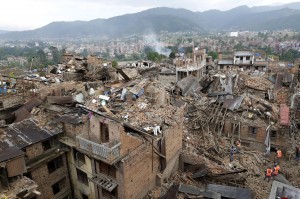 I was fortunate enough to travel to Nepal in my younger years, spending several weeks on a climb. In a complete plot twist and drawing on my own time in Nepal it was nothing short of amazing. At 18 years young, like most young men, I thought I knew everything and could conquer the world. Then I arrived in Kathmandu. From the minute I stepped out of the Tribuhavan International Airport and with the rest of the group hopped on the bus that would whisk us to the hotel for a much needed sleep after a 20hr trip from Heathrow, I was taken back by the sheer poverty and third-world conditions. I found myself feeling guilty about many things I have complained about (such as the hot water levels in the shower). As I soon found out, I began yearning such comforts of home, the hotel, and even Kathmandu city life. Whilst trekking and climbing, our rations, along with oxygen levels, depleted. We adapted to life eating SPAM fritters and hacking up a lung whilst throwing a snowball or two. Needless to say the couple of months that I was out there would test my personal and mental endurance and in many ways shape some of the values that I hold closest to me. I am very thankful to the Nepalese people and that experience.
How does this draw parallel with my current sales role? Allow me to explain:
Prepare to win…
Those of you whom know me and especially my team in NYC will know that I hate losing.  It is a deep-rooted loathing and something I cannot lose from days of playing competitive sports. I ask the question of all candidates that I interview "Do you like to win, or do you hate to lose?". Cheesy, but as we know all too well in sales, where we are faced with many setbacks and objections, we need that competitive drive. The drive that, no matter what, we are going to win.
After a restful night's sleep every night – trust me, walking 4-10miles and on average climbing the height of Ben Nevis (UK's highest mountain) every day, it was restful – we would wake up to our Sherpa bringing us "milk tea" (interesting fact: Yak milk is pink!). After the morning routine of milk tea, bathing in a tiny water bowl (size of a dog bowl), chowing down on chef's preparation (usually involving SPAM), we would pack up our bags and head out. Makalu is a 2-3 week trek from Tumlingtar Airport through some amazing lowlands and along the Arun River before you hit the Shipton Pass (whereby you know lowlands are no more and the trek becomes a climb to the base camp and beyond). I was always amazed that, despite leaving an hour after the rest us, the support team would overtake us half way through the morning to set up lunch and would repeat the same overtake again in the afternoon to set up camp. I was amazed at the support team of Sherpa and especially porters (generally a mix of older men and women whom carried on average 50-80lbs of equipment and supplies on crates attached to rope which was strung around there foreheads). In short, at 18 and being an avid swimmer, rower, and rugby player I thought I could beat them. I failed badly. I am sorry to say that there isn't a comeback win for me here, it was just loss, after loss, after loss as they passed me by every morning and afternoon. That said I was very happy with this arrangement at times when temperatures were sub zero and the wind would kick up. Seeing those orange tents in the distance was a welcome sight indeed.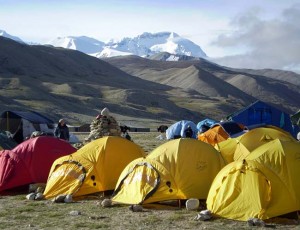 Preparing for the job at hand and never failing to stop learning are key in sales as they are in beating a spotty teenager up a mountain. Applying what learning I can from the experience, I know that I was beaten by an expert; someone who had over the past 30-40 years practiced and practiced and most importantly where far more prepared. Nothing beats consistent hard work and my elderly Nepalese friends handed me a beating to remember.
Tenacity can't be trained…
On the sales team we work hard. I always remember resenting a certain sales manager/come CEO a little in the past for saying I needed to work harder. In retrospect he was probably right, there is always room to work harder and I know as I too dole out the same line of "you need to work harder". I do so not to annoy, but to help with a persistent determination to win. This persistent determination or tenacity I believe is something that only the individual – that's you – can have.
Climbing and trekking in the Himalayas comes with its challenges, as does sales. Preparing oneself will only get you so far; after that you just have to do it. No one will drag you up a mountain, and no one will get you that sale but you. The very best in climbing and in sales are persistently determined. I don't know if he is the best climber, but perhaps one of the most known, Edmund Hilary who climbed Everest in 1953, being the first man to do so along with Sherpa Tenzing Norgay. Hillary had climbed 11 peaks in the Himalayas before attempting Everest, and he climbed another 10 peaks after. I can only talk about the tenacity needed in sales and it is immense.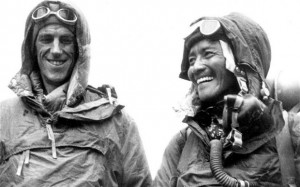 Perhaps the same phrase is said in climbing as it is in sales, in that you are only as good as your last deal or peak in the case of a climber. The best sales people are those that are always seeking out the next deal just as much as they are chasing down the direct dial, lead, or whatever the task at hand maybe. Like climbers, father time catches up with sales people. That's not to say we burn out, just that we need to work at pace as you never know who else is trying to get into the sale. We need to conquer it first just like Hilary and Sherpa Tenzing did in 1953, a good 3 years before the next. Imagine what we can do inside 3 years with a client without any competition knocking on the doors.
Be grateful for what you have…
Since coming to NYC, I have been constantly amazed by this city same as I was in Kathmandu, though for very different reasons. NYC literally has everything you can ever think of, in Kathmandu its the opposite. Yet like any great city, the underlying culture helps shape the growth, architecture, and people. Not to say that New Yorkers aren't appreciative of what they have, as I think any true New Yorker would defend the city till they are out of breath. But Kathmandu's people are hardy (hearty?). Unfortunately they will need to be more so than ever. There is a deep religious and spiritual undertone within the city, something that I feel that Western cities and other modern cities have probably lost. The Nepali people are hard working and respectful of others. The Namaste greeting, which follows you around Nepal everywhere you go, literally means, "I bow to the divine in you".
Whilst on my journey up Makalu I befriended one of the junior Sherpa. He's someone I have kept in contact with in the years since and someone who I hope to visit soon. His annual salary of 32,000 Rupees (about $500) was back then a good salary compared to some. He wore an old Barcelona soccer jersey and pants and his boots were hand-me-downs from a group 3 years before and well worn. I can't fathom how many miles and how many feet he had traversed up and down the Himalayan Mountains. Yet not once did he complain about his job, and was all the more happy to go out of his way to help me barter for a can of Pepsi or whatever else I was craving. I haven't heard from him since the disaster and I hope he is OK, which I am sure he is. We nicknamed him "the Cat" for his ability to always land on his feet despite the tumbles and trips that happen at altitude.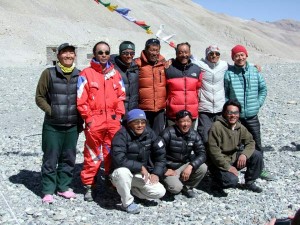 I don't mean to overdo this lesson but sometimes in sales and with the company you are with, whether that is CDM Media or otherwise, it's always good to take a step back and appreciate what you have got versus what you haven't. That's not to say that you don't prepare and work tenaciously to get what you want, but be appreciative of what you have and the others around you.
So I hope this satisfies my English teachers and that it has a beginning, a middle, and an end. I will be back soon with my next post after some thinking about what to write and welcome your ideas and input. If you are interested in helping the plight of the Nepalese there are several great charities helping, but here is a less well-known one that helps the Sherpa and porters who contribute to the Tourism industry that is the largest part of the Nepal economy.  http://himalayantrust.co.uk/
Thanks to my friend, The Cat, and the Nepalese people. My thoughts and prayers are with you all during some tough times. I hope to be out there enjoying another Tongba soon enough.