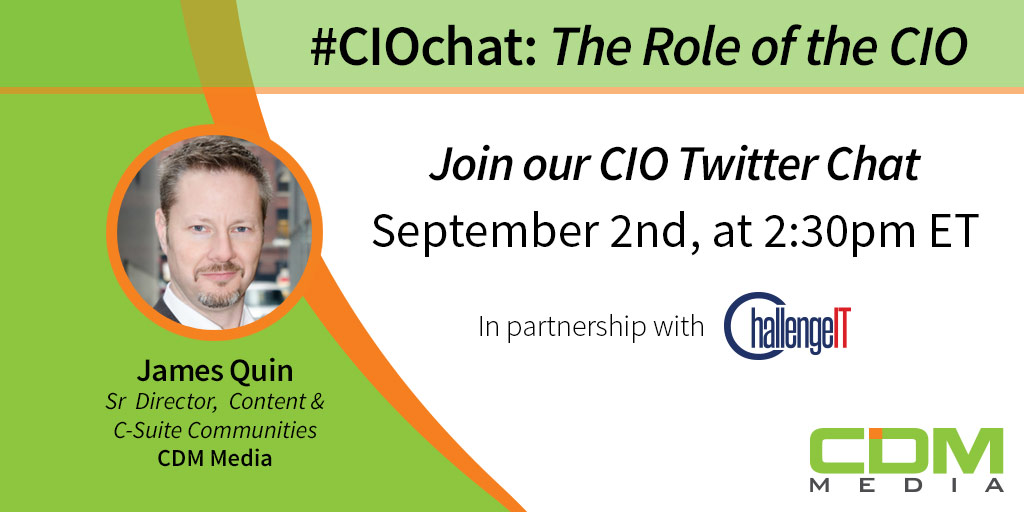 Date: September 2nd, 2015
Time: 2:30 ET
Place: Twitter #CIOchat
Topic: Role of the CIO
About the Topic
Since the inception of the role, the focus of the CIO has primarily been one of Technologist and IT Operations Manager; selecting the tools and services necessary to support the business, and then efficiently and effectively operating them. This is a future of declining organizational value however as technology becomes increasingly democratized and other organizational groups take control over individual systems and data sets. CIOs need to recast themselves instead as Strategists and Business Innovators; leveraging their unique position at the crux of the organization to propose alternatives to the accepted way of doing things, and to drive organizational growth through business alignment and organizational change.
About the Moderator
James Quin – Senior Director of Content and C-Suite Communities, CDM Media
James is directly responsible for the experience and engagement of all conference attendees and the broader community of executives that CDM Media works with. James comes to CDM Media from the Info-Tech Research Group where his eight years of experience as a Senior Analyst, Lead Analyst, and Director of Research have given him unique insights into the challenges facing the C-Suite. Prior to joining the Info-Tech Research Group James held both consultant and practitioner roles, building hands-on experience over a ten year period. James is an accomplished and in-demand public speaker. He will be the moderator for all of the twitter chats that are sponsored by CDM Media.
Twitter Chat Housekeeping Rules
Rules are not here to govern the participants on anything rather to ensure that everyone's experience throughout the twitter chat is a positive one. Please be respectful to the chat and those participating by following these few guidelines. Thank you in advance!
Use the hashtag in EVERY tweet so participants can see your great insights! (#CIOchat)
Identify which question you are answering in your tweet (ex. To answer Q1 you should write A1 at the beginning of your answer)
Stay on topic
No spamming

Including minimal website link isn't spamming
Too many repeats is spamming, too many links is spamming, advertising is spamming

Be pleasant/courteous
If responding to an individual, include their twitter handle in your tweet/response
Make sure your twitter feed is not on private
Mentioning any sources regarding your points is encouraged!
We want to hear your points, but encourage waiting a few minutes between tweets to not bombard the Twitter chat
If you want to start a side conversation, remove the hashtag
Please retweet the questions posted by the moderator
Suggestions
We would love to continue our Twitter Chat with the community, therefore any suggested topics that you are interested in proposing can be proposed on here. Please enter any proposition for a chat topic and we will try our best to accommodate.
For an easier twitter chat experience we suggest the use of a twitter tool to organize your tweets. Suggested tools are: Hootsuite, TweetDeck, and TweetChat
To RSVP and mark your calendar for this event, please click here.