The following guest post comes courtesy from one of CDM Media's trusted partners. Whether it be an industry association or a news outlet, our partners provide a fresh perspective on trending topics in innovation. The Telecom Council of Silicon Valley is Where Telecom Meets Innovation. The Council connects the companies who are building communication networks, with the people and ideas that are creating it – by putting those companies, research, ideas, capital, and human expertise from across the globe together in the same room. For more information visit www.telecomcouncil.com.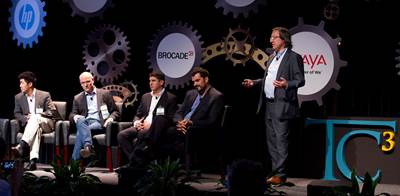 What Should CIOs Expect From Telecom in 2016
by Derek Kerton, Managing Partner, Kerton Group
@derekkerton
It used to be that changes in the services of telecom carriers needed to be followed closely by CIOs…with a check in about once-a-decade! Telecoms earned a reputation as the classic dinosaurs – slow to change, and resistant to innovation not invented in their own labs. But things are quite different in the new century. Fiber, wireless, IP packetization, and virtualization have radically changed the structure of telco networks, and pressure from Over-The-Top (OTT) competitors has lit a fire under the telecom industry, and standing still is no longer an option.
That's good news for enterprise IT departments and their leaders. The range of options and services is blossoming, and the ability to get competitive bids means that prices are always dropping. More for less? Sounds good, right? Until, of course, one considers the complexity and risk involved in changing telecom providers and adopting new services. So, what's on tap over the next year from the telecom industry, and what should IT departments be looking for?
For the answers, we at the Telecom Council of Silicon Valley turn to our carrier members, global telecom operators who represent 2.5 Billion end subscriber accounts. Each year, we poll the carriers at the Silicon Valley-based TC3 Summit (Telecom Council Carrier Connections) meeting, and we ask what the top innovation priorities are for them for the next calendar year. This year's meeting is coming up September 30 – October 1, and we're already hearing from the operators what they will be sharing.
The hot topics for the next year look to include:
More cloudification, with hybrid to retain key data, and cloudify for peak loads and collaboration
XaaS – the third stage evolution of datacenters is anything As A Service

Virtualization

– borrowing from enterprise IT, telco is virtualizing the network
5G – opportunities for redundancy, mobile workforce, and high speed wireless networks
IoT – Connecting equipment, sensors, relays, people, trucks, and equipment to the network
With those changes, carriers are enhancing the services they can offer enterprise, and blurring the lines between the carrier network and that of enterprise customers. If you are interested in hearing more about what the carriers will be discussing at TC3, there is an easy way. Just tune into the free TC3 preview webinar with China Mobile, BT, and Rogers on Thurs. Sept 3 at 2pm ET / 11am PT.