CIO of Global Security Barclays to Lead as Keynote Presenter on Re-Imagining the Role of Global Security Teams
We are ple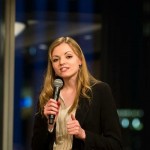 ased to announce Elena Kvochko as a keynote speaker for the CISO Summit New York on February 7, 2017.
Kvochko is the CIO of Global Security Division at Barclays and is responsible for cyber security strategy and implementation as well as business development and operations. Elena has been named in both the Fortune Most Powerful Women International 2016 and Fortune Most Powerful Women Next Generation 2015.
Elena's career has involved regional experience in North America, Asia Pacific, South Asia, Africa and Europe. Her work has been published in The New York Times, Harvard Business Review and Forbes. She is the co-author of The Definitive Cyber Security Guide for Directors and Officers published by The New York Stock Exchange and Palo Alto Networks.
Takeaways from her presentation will include:
Streamlining internal security operations
Focusing on all types of threats to enable rapid reaction
Restructuring the Internet-facing infrastructure and ensuring specialist analysis and remediation of threats
To learn more about the event and register today visit:
CISO Summit New York: http://www.cisonewyorksummit.com/
To view all of our upcoming events, visit CDM Media's Summit Calendar.