CDM Media i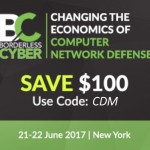 s pleased to invite you to attend the Borderless Cyber USA Conference, which will bring together senior level security executives across many domains to explore ways to change the economics of computer network defense. The conference will take place at the historic U.S. Customs House in lower Manhattan on 21-22 June.
Receive an extra $100 off the corporate rate. Use the discount code "CDM" when registering. Special government rates and Early Bird savings are also available.
Registration fee for readers using the code:  $295 before 28 April; $495 after.
This will be the fourth in the international series of Borderless Cyber conferences hosted by the OASIS nonprofit standards consortium (home of STIX and TAXII). Previous Borderless Cyber events were held in partnership with The World Bank in Washington, D.C., with the European Parliament in Brussels, and with Keio University in Tokyo.
C-level executives and directors of threat intelligence, incident response, risk, and audit will come away from Borderless Cyber with actionable insights on how to better evaluate and defend their cyber practices. Speakers include C-level executives from Wells Fargo, Aetna, DHS, U.S. Bank, ITU, and KPN Telecom, as well as U.S Presidential Advisors, industry analysts, and other experts.
The event will also reveal high-level updates on the STIX, TAXII, and CSAF standards initiatives through live use case studies and demos from Anomali, IBM, NC4, EclecticIQ, LookingGlass, and others.
For more information or to register for the conference, please visit the conference website.
This post comes courtesy from one of CDM Media's trusted partners. Whether it be an industry association or a news outlet, our partners provide a fresh perspective on trending topics in innovation. The Organization for the Advancement of Structured Information Standards (OASIS) is a nonprofit consortium that drives the development, convergence and adoption of open standards for the global information society. OASIS promotes industry consensus and produces worldwide standards for security, Internet of Things, cloud computing, energy, content technologies, emergency management, and other areas. For more information, visit https://www.oasis-open.org/.