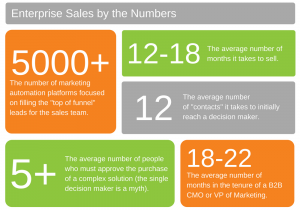 Selling a complex solution to a Fortune 1000 Enterprise is extremely difficult. Whether you approach the enterprise sales dilemma from a marketing point of view or from a sales point of view, the process can be both long and frustrating. Over the past 10 years of being immersed in the enterprise B2B sales ecosystem, CDM Media has learned three key points:
The sales cycle, from the first touch (by phone or email) to the contract signature, can be frustratingly long. Our research shows that the average length of a complex solution sale cycle ranges from 12-18 months.
The idea that there is a single decision maker is truly a myth – they don't exist.  Instead, on average, 5+ people need to approve a purchase of a new complex solution.
Up to 50% of this lengthy sales cycle is spent working to get a face-to-face meeting with one of those 5+ decision makers.
This process has led to the short life cycles of those held most responsible for building a robust pipeline of highly qualified opportunities for the sales team.  Studies show that CMOs and VPs of Marketing have a corporate shelf life that is nearly half as long (or should I say short) as the rest of the C-suite.  In spite of myriad marketing automation tools, massive amounts of creative content, cold calling tools and techniques, account based marketing and the rise of social media marketing, the sales cycle is what it is — long.  And the sales cycle can be as long as the average tenure of a CMO — 18 months.
We have seen some try to solve this through meeting one of these 5+ Decision Makers at large B2B tradeshows or exhibitions, but these seem to rarely work.  What are the odds that a C-level decision maker is attending a tradeshow and even if they do, what are the odds they will drop by your booth and engage in a 30-minute detailed discussion?
While the numbers tell a story that can seem troubling there is a number that brings hope: