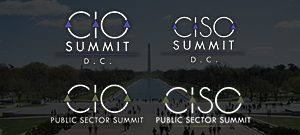 Thank you for attending CDM Media's CIO & CISO D.C. and CIO & CISO Public Sector Summits last week in Washington, D.C. It was a rare experience that brought together technology leaders from corporate, federal government, state and county government, as well as education. Sticking to the theme – digital transformation is a journey, not a destination – it is suffice to say, our attendees made excellent progress last week. We are confident that each attendee was able to walk away from the summits with 2-3 helpful ideas on how to better embrace digital technologies to improve your company or organization. In addition, we are also confident that the attendees left with 2-3 new connections within their peer-to-peer community in efforts to collaborate until we all meet again.
It is difficult to summarize the myriad discussions, presentations and meetings, but if there is a summary it would be this :
Digital technologies are driving changes in both the expectations and habits of employees and customers.
Companies and organizations are needing to transform how they operate to meet these new expectations and habits.
Data is truly the fuel for the journeys we are on.
However, this data is under an increasing attack and we need to secure it through remediation, vulnerability assessments, threat intelligence and deception techniques.
We need to increase our speed and agility as organizations.
We also need to hone our communication skills to be the best story tellers within our companies or organizations such that we are driving digital transformation instead of sitting in the back seat.
If you are interested in attending upcoming summits, please check out our summit calendar. In the meantime, we encourage you to keep our community together by joining our CIO/CISO D.C./Public Sector LinkedIn Group. Please contact Bryce Sack to learn more.
Highlights from the summits:
Beth Anne Killoran, CIO @HHSGov sharing her vision on how to balance Digital Transformation, Security and improved service to constituents. #ciopublicsector #cisopublicsector #ciodc #cisodc @CDMmedia #DigitalTransformation pic.twitter.com/YMiLXEWDwD

— Steve Dimmitt (@sdimmitt14) February 22, 2018
Caitlin Halferty from the @IBM Chief Data Office sharing how IBM is using Cognitive Computing to consume and act on data to transform into a Cognitive Business. #ciodc #cisodc #ciopublicsector #cisopublicsector @CDMmedia #DigitalTransformation pic.twitter.com/Y1OFq5r12b

— Steve Dimmitt (@sdimmitt14) February 22, 2018
Chris Hazelton with @BlackBerry speaking at our CIO/CISO DC Summit today. Topic, "The Connected Worker & the Enterprise of Things". #CIODC #CISODC #IoT #IT #data #ciso #security #tech #technology pic.twitter.com/70sQhHcTMz

— CDM Media (@CDMmedia) February 22, 2018
Mark Elszy with @Equinix speaking at our CIO/CISO DC Summit today on "Interconnection Oriented Architecture: Methods, Innovations and Opportunities" #digitaltransformation #IoT #ciodc #cisodc #tech #IT #data #cio #ciso pic.twitter.com/fPhUejiy3S

— CDM Media (@CDMmedia) February 22, 2018
Kunal Anand with @Prevoty speaking at our CIO/CISO #DC Summit today on "Knowing Is Half the Battle – Protecting Applications & Their Sensitive Data". #digitaltransformation #IoT #ciodc #cisodc #tech #IT #data #cio #ciso pic.twitter.com/jPusBpY6jh

— CDM Media (@CDMmedia) February 22, 2018
Jessica Stanford Director, Product Marketing with @cybereason speaking at our CIO/CISO #DC Summit today on "Year of the Defender – #Cybersecurity Predictions for 2018". #digitaltransformation #IoT #ciodc #cisodc #tech #IT #data #cio #ciso pic.twitter.com/t76iXaCG4H

— CDM Media (@CDMmedia) February 22, 2018
Rob Parsons with @DatalinkCorp speaking at our CIO/CISO #DC Summit today on "Innovation Partners Showcase". #digitaltransformation #IoT #ciodc #cisodc #tech #IT #data #cio #ciso pic.twitter.com/yo9T1wfR7Y

— CDM Media (@CDMmedia) February 22, 2018