February 8, 2018 — Hyatt Atlanta Perimeter at Villa Christina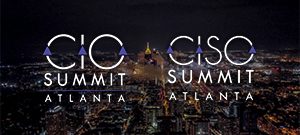 First off, we want to extend another "thank you" to those who attended CDM Media's CIO and CISO Summits on February 8th in Atlanta.
The theme for the summit was Digital Transformation: A Journey Not a Destination, and was very fitting for our day together. We journeyed through many important topics regarding how to move from the WHAT of digital transformation to the HOW.
From the opening keynote presentations, to the engaging lunchtime panel, to the ending Governing Board discussion as well as all the great presentations in between, we discussed important topics facing IT leaders today. These topics concluded that digital transformation is about more than technology. It is about how companies can reinvent themselves to be more competitive, more nimble and more secure. And there is no one better positioned to tell the story of what is possible than from the CIOs and CISOs at the CIO and CISO Atlanta Summit.
We hope that those who attended the summit left with solid ideas on how to move your companies forward. We also hope that you built even stronger bonds with your peers in your community. If you were unable to attend and would like to learn more about future Atlanta events, email marketing@cdmmedia.com to stay connected.
Photos from the summits:
A quick bit of feedback from our CIO & CISO Atlanta Summit. Want to learn more about the contents discussed? Send us a message or email marketing@cdmmedia.com pic.twitter.com/6ogFSe88MF

— CDM Media (@CDMmedia) February 12, 2018
David Shonk SVP @SunTrust sharing how to build an agile bank. #DigitalTransformation #cioatlanta #cisoatlanta @CDMmedia pic.twitter.com/f8AjDwX0as

— Steve Dimmitt (@sdimmitt14) February 8, 2018
Dave Hudson CIO @Veritiv kicking off #cioatlanta #cisoatlanta Digital Transformation: A Journey, Not a Destination. @CDMmedia pic.twitter.com/BhlVclkxFj

— Steve Dimmitt (@sdimmitt14) February 8, 2018
Kunal Anand CTO @Prevoty sharing with CIOs and CISOs on ways to deal efficiently with application security. #cisoatlanta #cioatlanta #DigitalTransformation @CDMmedia pic.twitter.com/WaUWBuzZzB

— Steve Dimmitt (@sdimmitt14) February 8, 2018
Anthony Newstead and Noa Davidson from @CocaCola sharing information on the @bridgecmty program impacting speed of #DigitalTransformation #cioatlanta #cisoatlanta @CDMmedia pic.twitter.com/AnUDsjZ3IB

— Steve Dimmitt (@sdimmitt14) February 8, 2018
Discussing "CIOs/CISOs as the Consummate Communicator" at our #CIO Atlanta Summit. Special guests Satyan Penmetsa @Wolters_Kluwer Tom Hall Genuine Parts Company and Wayne Proctor @WestRock #cios #cisos #cioatlanta #tech #it #iot #csuite #digitaltransformation pic.twitter.com/XgUZFf4vNn

— CDM Media (@CDMmedia) February 8, 2018
Scott Hawke from @Thalesesecurity speaking at our #CISO #Atlanta Summit on "General Data Protection Regulation, GDPR. Are you prepared for May 25, 2018?" #cisoatlanta #cisos #IT #tech #digitaltransformation #csuite #innovation #security pic.twitter.com/CqCValCeBE

— CDM Media (@CDMmedia) February 8, 2018