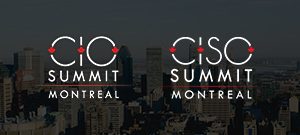 Thank you to all who attended CDM Media's CIO and CISO Montreal Summits last week in Montreal, QC. Sticking to the theme – digital transformation is a journey, not a destination – it is suffice to say, our attendees made excellent progress last week. We are confident that each attendee was able to walk away from the summits with 2-3 helpful ideas on how to better embrace digital technologies to improve your company or organization. In addition, we are also confident that the attendees left with 2-3 new connections within their peer-to-peer community in efforts to collaborate until we all meet again.
It is difficult to summarize the myriad discussions, presentations and meetings, but if there is a summary it would be this :
Digital technologies are driving changes in both the expectations and habits of employees and customers.
Companies and organizations are needing to transform how they operate to meet these new expectations and habits.
Data is truly the fuel for the journeys we are on.
However, this data is under an increasing attack and we need to secure it through remediation, vulnerability assessments, threat intelligence and deception techniques.
We need to increase our speed and agility as organizations.
We also need to hone our communication skills to be the best story tellers within our companies or organizations such that we are driving digital transformation instead of sitting in the back seat.
If you are interested in attending upcoming summits, please check out our summit calendar. In the meantime, we encourage you to keep our community together by joining our CIO/CISO Montreal LinkedIn Group. Please contact Bryce Sack to learn more.
Highlights from the summits:
Dr. Kimberlee Ann Brannock @HP @HPCanada sharing insights on security motivators in Enterprise #cisomontreal #ciomontreal @CDMmedia #DigitalTransformation pic.twitter.com/xAd2Wdfnfk

— Steve Dimmitt (@sdimmitt14) February 20, 2018
Michael Cardy @RedHatNews @RedhatCanada speaking on the power of DevOps and it's role in Digital Transformation. #ciomontreal #cisomontreal @CDMmedia #DigitalTransformation pic.twitter.com/dHjqhIBNQ7

— Steve Dimmitt (@sdimmitt14) February 20, 2018
Kimberlee Brannock @HP speaking on Governance, #Compliance & Security: Three Keys to Protecting Your Business at our #CIOMontreal Summit. #cisomontreal #digitaltransformation #technology #csuite # IOT #IT #security #events pic.twitter.com/nfDEzhXi2o

— CDM Media (@CDMmedia) February 20, 2018
Dr. Andrew Walenstein from @BlackBerry with a next 10 year view of IoT. #ciomontreal #cisomontreal @CDMmedia #DigitalTransformation pic.twitter.com/0s0ETGDUMr

— Steve Dimmitt (@sdimmitt14) February 20, 2018
John Moore from @Cherwell sharing the similarities of Hockey and IT Service Management #ciomontreal #cisomontreal #HockeyIsForEveryone @CDMmedia #DigitalTransformation pic.twitter.com/kb56Wn1nqL

— Steve Dimmitt (@sdimmitt14) February 20, 2018
Thanks to our lunch panelists Sylvain Prevost with @Citi Richard Gariepy with @ClintonGlobal and Mulu Syoum with @followMFS discussing "CIOs/CISOs as the Consummate Commuicator" at our #CIOMontreal Summit. #CIO #CISO #CXO #IoT #Tech #data #security #digitaltransformation #csuite pic.twitter.com/RnZsYC2vUO

— CDM Media (@CDMmedia) February 20, 2018