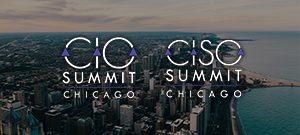 Thank you to all delegate attendees, sponsors, the Westin River North and the rest of the CDM Media team for a fantastic event in Chicago, IL on March 8th, 2018. Delegates from companies like Aon, New York Life Insurance, GE Capital, State of Illinois and more joined our sponsors (Cybereason, Prevoty, Thales eSecurity, Cherwell Software, IBM, Soliant Consulting, Winthrop Resources, Workday) to discuss the topics around Digital Transformation Is a Journey, Not a Destination.
The day kicked off with a presentation by Nevin Zimmermann, CIO at GE Capital, about CIOs' dilemmas ("What is your strategy? Do we have the right people? What is the cost?") and solutions (leveraging startups, learn to fund, get efficient, know your team).
The summit attendees spent the remainder of the day in numerous think tank sessions, panels, roundtable meetings to discuss the industries' top trends and topics. The discuss went deeper into digital transformation and specific challenges around artificial intelligence, cybersecurity, and different strategies.
The CIO of the State of Illinois, Ken Lonbom, shared details from his presentation on what Illinois's IT department has done to stay secure as well as incentivize start-up growth in Chicago as the new Silicon Valley. Erik Devine, CISO at Riverside Healthcare, shared his struggles of a reactive industry and attempting to stay "proactively reactive."
After a full morning of discussion, the summit was rejuvenated through the panel discussion after lunch. Tim Walter, CIO/SVP at Randa Accessories, Paige Adams, Group CISO at Zurich Insurance, and Mark Lovelace, VP & CIO at Masterlock, shared what their biggest threats were and how to combat them. The biggest takeaway from this session was that they wanted their department to be enablers and preventers. They are not looking to respond to requests with a "NO", but rather a "HOW".
Along with that, the panel shared how they are looking for solution providers who do not just want to sell a product, but actually partner with them in order to solve their problems. And that's exactly what the sponsors wanted. Two sponsors came back to the CDM Media team and shared their successes and confidence that relationship were created.
In addition, a journalist from Inc. Magazine came in to interview the executive attendees and sponsors as well as our CEO, Glenn Willis.
Stay tuned for news and updates on our next CIO & CISO Chicago Summit on October 18th, 2018 as well as other opportunities to gather as a community to learn from each other.
Designing a digital workplace is a major challenge. Apurva Mehta, Director of Enterprise Architecture, Innovation, and Cloud at @Aon_plc is here to provide solutions. #ciochicago #cisochicago #thinktank pic.twitter.com/T0Hu6zh9WH

— CDM Media (@CDMmedia) March 8, 2018
One-on-one, face-to-face meetings is where relationships are born, negotiations happen, and deals are signed. And there is no better place for these meetings then at a CDM Media summit. #ciochicago #cisochicago pic.twitter.com/vNY7LTyg9F

— CDM Media (@CDMmedia) March 8, 2018
Kunal Anand doing a killer demo of @Prevoty capabilities to audience at #ciochicago #cisochicago @CDMmedia #DigitalTransformation pic.twitter.com/OhXqmzv7ci

— Steve Dimmitt (@sdimmitt14) March 8, 2018
Another great presentation from the team at @Thalesesecurity on data security, cloud, access controls, regulations and what's ahead for 2018? pic.twitter.com/ChppPWNiYJ

— CDM Media (@CDMmedia) March 8, 2018
Nevin Zimmerman, Paige Adams @Zurich , Mark Loveland @MasterLockUS and Tim Walter @RandaAccess discussing the need for CIOs and CISOs to be the Consummate Communicator with respect to #DigitalTransformation #ciochicago #cisochicago @CDMmedia pic.twitter.com/hsU5scYyEL

— Steve Dimmitt (@sdimmitt14) March 8, 2018
A tremendous panel discussion from Paige Adams – Group CISO at @Zurich Insurance, Mark Lovelace – VP & CIO at @MasterLockUS, and Tim Walter – CIO/SVP at @RandaAccess hosted by Nevin Zimmermann. #ciochicago #cisochicago pic.twitter.com/6hvkQJaw7n

— CDM Media (@CDMmedia) March 8, 2018
Technology Matters. Shouldn't enterprise applications be able to keep up with the latest trends and innovations? Our partners at @Workday share insights on this topic during the innovation partners showcase. #ciochicago #cisochicago pic.twitter.com/a5yi7XXLee

— CDM Media (@CDMmedia) March 8, 2018
Disrupt or be disrupted. Roman Dumiak, Chief Architect – Architecture Services at @Allstate, shares how CIOs and CISOs can lead their companies in ways that disrupt before they are disrupted by others. #ciochicago #cisochicago pic.twitter.com/pcpBXCpXWJ

— CDM Media (@CDMmedia) March 8, 2018