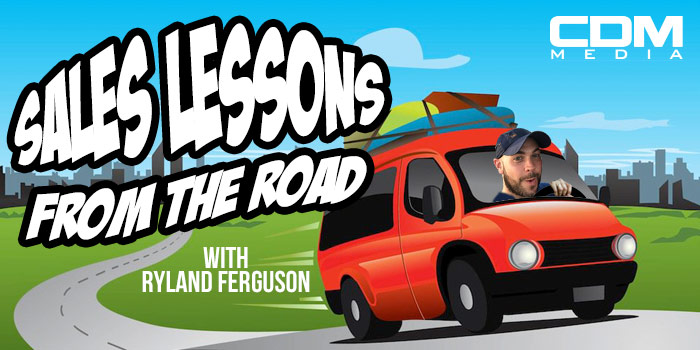 Our Director of Sales, Ryland Ferguson, will be on the road working remotely for the next couple months. While on the road, he has shared some of his sales lessons along the way.
——————————————————————————————————————–
Welcome back to another installment of Sales Lessons from the Road. If you're reading this blog post, you should pause, go to the CDM Media homepage, and submit a sponsorship inquiry before continuing. All done? Good!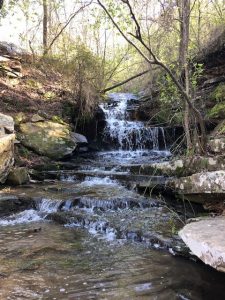 This is the part where I update you on my travels. Today I'm writing this as I stare out across a gorgeous valley in Petit Jean State Park, located in North Central Arkansas, about an hour outside Little Rock. This place is awesome – highly recommended if you're ever traveling this way. From its position atop Petit Jean Mountain, the park overlooks the Arkansas river to the west for some epic sunsets and features great hiking in a relatively compact area.
If you're into 2000 year old cave drawings, they got 'em. If you're into waterfalls, they got 'em. Hiking? Check. Wildlife? Yup. Bears? Nope. (That's a check too for this guy. #DaysWithoutBearAttacksCounterIsAt20. The name of the park and mountain comes from a legend about an 18th century woman who made her way to America to follow her true love who'd left to sail across the ocean by disguising herself as a man and finding work aboard the same ship, only to later die atop the mountain after falling ill.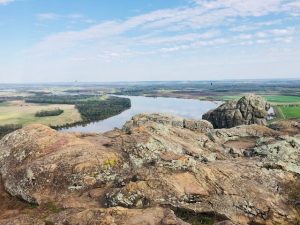 Petit Jean or "Little John" was the nickname given to her on the ship as they sailed to North America. The locals, however, pronounce it "Petty Jeen" or "Petuh Jeen" in an accent that's so buttery smooth you have to forgive the departure from the original French. Arkansas, as you'll recall, was part of the Louisiana Purchase wherein the United States acquired a massive tract of land from France in 1803, hence all the France talk.
You're probably thinking, "Here comes the predictable French Explorer metaphor or maybe it'll be about going to extremes to get what you want." Aha! Fooled you! (I'm saving those for next week).
This is actually more of a part two to last week's post about kick starting your new quarter in sales. And this time I'll be serving them up to you in "clickbait-y" list format. Before we get too far into April, I wanted to pass along a couple of suggestions for having a good quarter. While little of this will be new to many of you, sometimes we need a reminder of the basics that get and keep us performing at our best.
Three tricks to having a successful quarter in sales
Three Months, Three Stages.
Having a good quarter is often most impacted by the first 4-6 weeks. This is your creation stage. It's often easy to let the opportunities that rolled over from last quarter give you a false sense of security and take up your time in the early part of the quarter. Yes, you should be nurturing those that are still alive and well, but don't miss out on your window to create a robust pipeline of new opportunities in the early days of the quarter. If you don't, you'll find the well a bit dry.Next comes the Development Stage. This is the meaty middle of the quarter where you drive forward with those opportunities and make sure you're progressing them through to a decision stage. Sift through all those opportunities you created and be honest with yourself about which have the best chance to move forward and potentially close. Don't push snow uphill – you know which prospects will have shown buying signals and indicated a decision timeline within the quarter. Lastly, is the closing stage, the final four weeks of the quarter. Get laser focused on working through those final decisions you know can be had by end of quarter. Creation, development, closing. Sounds simple, right? And the quarter even provides you with an easy to follow Month One, Month Two, Month Three format. Convenient, right? But make sure you're sticking to those timelines. It's week two of the quarter – you should be well on your way to generating a huge pipeline. If you're not, you may want to rethink your approach.
Have a plan, Stan.
Or Carol, or Jim or whoever you are. In his book Getting Things Done: The Art of Stress-Free Productivity, author David Allen writes, "Things rarely get stuck because of lack of time. They get stuck because the doing of them has not been defined." If you want to be superhuman this quarter and get more done in less time, you need a plan. You need to tackle things with intention and break them down into simple actionable next steps. You need to hold yourself accountable to that plan and make consistent reliable progress. Sales isn't a job where you can thrive in a manic state with hours or days of massive productivity followed up with hours or days of little effort and meaningful progress. Success rewards consistency and the key to consistency is having a very specific plan, keeping the steps within that plan simple, and taking action every single day to move forward. Have you made your plan for the quarter yet? What about this week? If not, you're leaving it up to chance.
Make every day a success before 10 AM
Who has had a day get away from them? That day seemed busy and yet next to nothing meaningful was accomplished? Oh come on, raise your hand. A little higher…that's better. What about a week?  Even with the best plan in the world from Point 2 above, we can have days that simply melt away from us into confusing haze of meetings, training, impromptu conversations, and "Snapchattery". It doesn't mean you're not working hard, but you could be working smarter. Give yourself a challenge this quarter. Identify the three things that are most important to accomplish from your plan each day and do them before 10:00 AM without fail. If you can't do one of them before 10:00 AM because it has to occur at a specific time in the day, add a bonus and get the other done before 10:00 AM. What's the point? If by 10:00 AM you've accomplished three major milestones every day, you'll keep your pipeline and your deals moving forward consistently, and even if the rest of the day turns into an impromptu marathon meeting with the CEO, your sales won't suffer.
That's it from Petit Jean. Make this a great quarter by choosing to do so. In the words of David Allen, "If you don't pay appropriate attention to what has your attention, it will take more of your attention than it deserves." In other words, if you're not being intentional and focused with a clear plan each day, your days will never go according to plan.
Bye, ya'll!
Ryland