Drew Fernandez Turns One!
Congratulations to one of the BDR team's favorite sons, Drew Fernandez on his one year CDM Media anniversary.
Drew joined the organization as we were first building out the BDR team. Strong-willed and a quick learner, Drew has developed into a solid contributor on the Business Development team. The team can always count on Drew to take early morning shifts to call on European accounts/contacts or pick up the slack in countless other ways. Drew is a pace setter when it comes to effort, challenging others to keep up when he's on form. We've known Drew to stay determined, creating quality opportunities where others were afraid to put in the tough work. Drew is a true believer of the phrase "shooters shoot." Over the past year, Drew has developed the skills and instincts that has helped him achieve the success he's experienced. These traits will serve him well as he grows into a BDM, as he is on the verge of achieving that benchmark.
While folks may question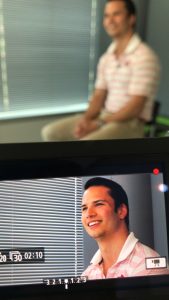 his karaoke skills after last holiday party's performance, and as much as Nelson may challenge his focus through trash talking during shuffleboard matches, the sales team is undoubtedly better for the efforts Drew has brought to the organization over the past year. Winners always seem to want to have the ball in their hands when the clock is winding down and it's winning time. As we make our way into our last Quarter 4 push, we have no doubt that you're going to take things to the next level. Congratulations again on all your success thus far. CDM Media thanks you for all you've done and continue to do.