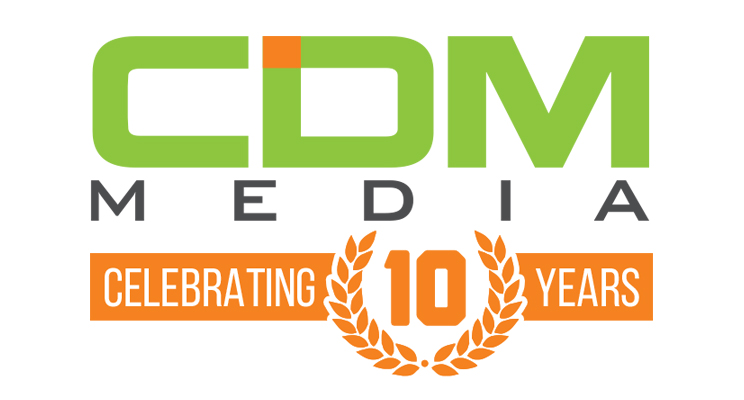 Wow. It's been an incredible ride. From early on I set the goal of being the number one company in the C-Suite marketing and demand generation space. It was a bold idea for what was a very new and somewhat unknown market. Through the ups and downs (and there have been plenty of both) there haven't been many constants in my life—my family, location (Chicago/Hawaii/NYC), and strangely enough—you, the CDM Media community; EMPLOYEES, CUSTOMERS AND PARTNERS alike. From my first founding days at the company (when I was deeply in need of sleep, more bootstrap money and some outside reassurance that I was doing the right thing), to the incredible rush of sealing our first deal with a Fortune 500 client within 90 days of 'opening the doors', to becoming one of America's fastest growing private companies' just six short years later. It felt like the sky was the limit and the great thing from my perspective is, it still is! Even in the darkest hours of the past decade, when I've felt the most alone, dispondent and over-extended, you've been there too.
I get to see a lot of you in person at our office locations, summits and events around the world. But I also get to see you right here online—on LinkedIn, Twitter or through email. Your support, loyalty, empathy, and unwavering belief that CDM Media could and would do great things has been astonishing and a challenge that I constantly strive to meet.
People say that time flies, and I've learned that it certainly does when you don't need look at the clock each day. I suppose in any way you look at it (3,652 days, 87,648 hours or 5,258,880 minutes) 10 years is a long time and I've just been lucky enough to be afforded that opportunity to be at CDM Media. Very few things in our lives or in the world last that long—the average tech startup struggles to make it to the two year marker! For that, I'm honored and humbled that you've stuck with us all that time, and I promise that in the decade ahead, CDM Media will deliver in the areas you need most by supporting team members, partnering with all of our customers and executing upon our plan. We will strive to be the best company you would wish to be associated with.
Whilst I reminisce about the past ten years today, I am thinking much more about CDM Media's future. I believe whole-heartedly in our plan and in the market we serve. We believe in assisting with human connections that others find arduous and sometimes impossible. We aim to support our clients sales and marketing goals through the power of 'face-to-face' C-Suite marketing. To secure large enterprise clients, the good old handshake and two humans finding a common ground is here to stay AND so are we. We will strive to bring invaluable business connections together along with supreme content curation supported by the best thought-leaders in our industry, whilst delivering remarkable events and services that everyone can gain benefit from.
Thank you for the ten remarkable years of partnership, warmth, friendship and support. We have accomplished a lot together and I absolutely couldn't have done it without you. But what matters most now is what we do next. As we move along that path, I hope you'll keep holding us to high standards, and telling us when we've met your expectations and when we've let you down.
Thank you for helping make CDM Media a fantastic company now and for decades to come.
Here's to the next 10 years: https://youtu.be/CAIaop-VSGM
With deep appreciation,
Glenn Willis